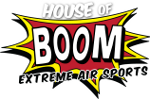 Defy Gravity at one of the Coolest Facilities in America. Over 10,000 square feet of connected, world-class trampolines in a 23,000 sq. ft facility. Their trampoline grid features over 60 trampolines, including the famous angled wall trampolines, launching decks and a few surprises up in the ceiling to test your vertical.
If your kids (6 and under) are ready to Dominate the Park without bigger kids around….YOU MUST check-out KidJump. Every day from 9-10am is exclusively for parents and children! I know it used to make me nervous worrying if my little would get hurt jumping with the big kids, so this is a great time to take them!


My readers get to save! $2 OFF – Present this coupon to receive $2 off a flight ticket anytime!